TextMagic is suitable for global text messaging.
Mobile operators across the world are always looking to protect their customers from unwanted text communications, so numerous "sender settings" restrictions and regulations exist.
TextMagic helps you achieve the best possible SMS delivery rate and two-way SMS service (where possible) by using "recommended sender settings".
Before you send an SMS you can choose the name or number the recipients will see on their phones when they get a text from you.
Depending on the country, our system will show you supported "sender settings".
This can be adjusted at any time via the Sender settings page, which consists of three tabs: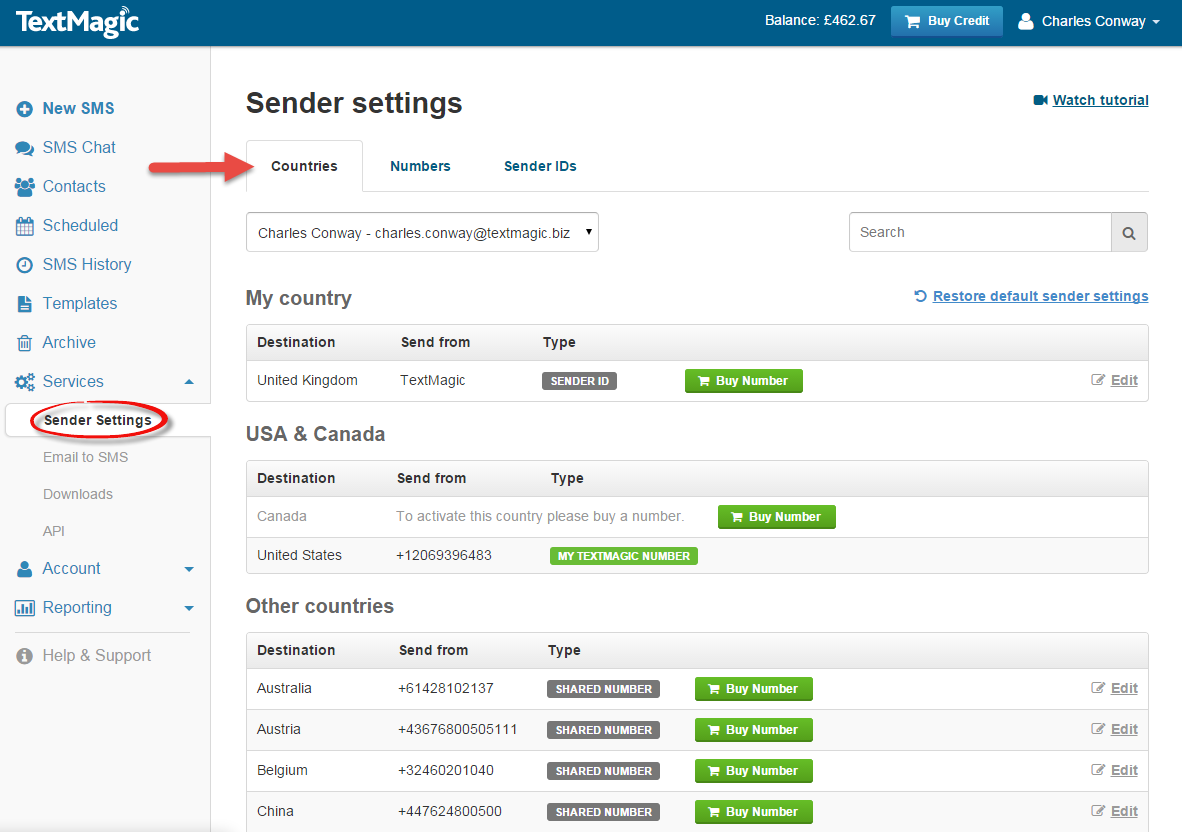 The Countries page displays the existing sender settings for:
My country
USA and Canada
Other countries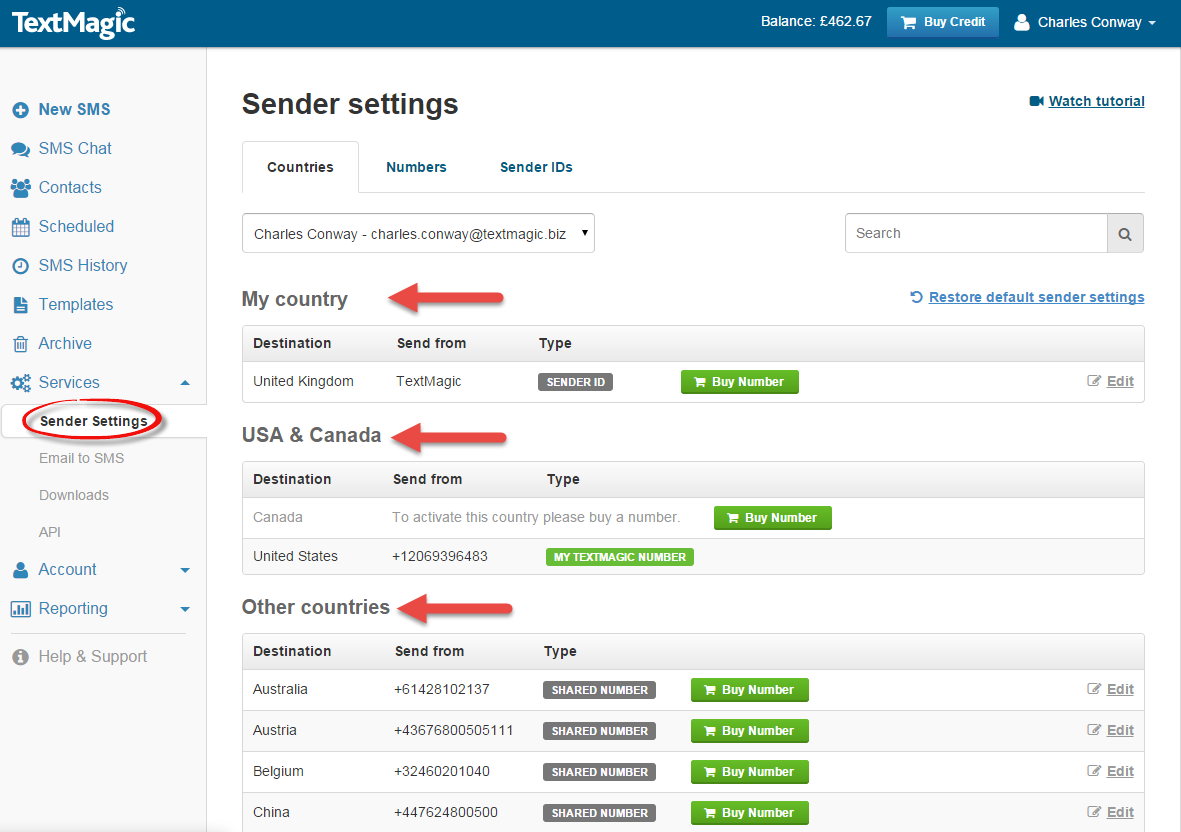 To adjust your sender settings:
With TextMagic you can choose from 4 "sender settings":
TextMagic dedicated number
Your own mobile number
Alphanumeric Sender ID
Shared reply number
Depending on the country, our system will show you supported "sender settings".
For example, sending SMS to the USA is supported only from a dedicated number.
TextMagic dedicated number
TextMagic offers dedicated numbers for more than 30 countries. Each dedicated number can be used by only one business at a time. The cost of a dedicated number monthly subscription starts at 2.40 GBP.
Dedicated number is an essential component for two-way messaging. You can send and receive messages to or from anyone. All incoming messages will be displayed in SMS Chat and your email.
Learn how to buy a dedicated number.
To cancel your dedicated number subscription:
Go to the Numbers page.
Find the number in the list.
Confirm cancellation.

Your own mobile number
Your recipient will see your own mobile number as the sender and all replies will go to your personal mobile phone.
To use this option you will first need to verify your number:
Alphanumeric Sender ID
Sender ID allows you to display your company name as the sender for all your SMS messages. However,please note:
If you use Sender ID you will not be able to receive replies.
Sender ID is not supported in all countries.
To apply for a Sender ID:
Go to the Sender IDs page.
Click Apply for a new Sender ID.
Enter your Sender ID and explain why you need it. (e.g. it's your company name). It can be a maximum 11 characters long and must contain at least 1 letter.
Click Apply now.
Wait until your Sender ID gets approved by a TextMagic specialist. You will receive an email confirmation once this is done. It usually takes up to 1 business day to approve a Sender ID.
Set Sender ID as your default sender option for the desired country.
Shared reply number
All shared numbers belong to TextMagic. They can be used by any TextMagic customer. Shared reply numbers are included with your SMS package. All replies will be displayed in SMS Chat and your email (if this setting is enabled).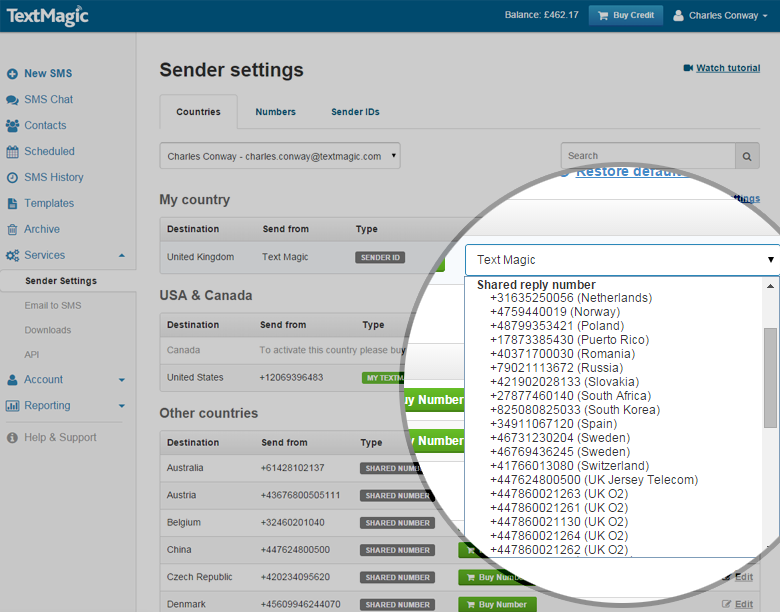 Please note: You can only receive replies from people you have texted earlier. Local shared reply numbers are available in more than 30 different countries.
To restore sender settings back to recommended:
Go to the Countries page.
Click "Restore default sender settings".
If you restore the sender settings - all your changes will be discarded and TextMagic will automatically set the best recommended sender number for every country to ensure the best delivery and response rate (where possible).