Reply to incoming messages using Chats
Chat is a quick and easy way to send and reply to texts and have two-way conversations.
Before using Chats, you must ensure you are able to receive incoming messages and are not using a Sender ID (as people cannot reply to you if you send messages from your company name). Learn more about Sender settings. 
You can also watch the SMS Chat introduction video that explains how to use this tool.
To send a message using Chats:
Select Chats from the main menu.
Click New chat.
Type your message. You will see how many parts your message contains. (Learn more about SMS length.)
---
Receiving replies with SMS Chat
When a person either replies or sends a new incoming text message to your dedicated virtual number, you will see a red notification next to the chat and the message preview highlighted in bold. You will also receive a desktop notification  and hear a notification sound when a new message reaches your SMS chat. 
If incoming SMS alerts are enabled on your account, you will also receive a copy of every incoming message to your email.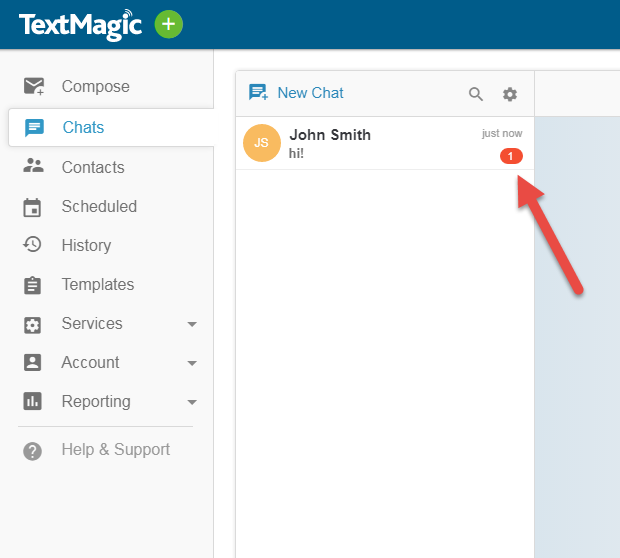 ---
SMS Chat left column features:
The left column displays the list of chats that are currently open (or closed).
Edit chats: mark as read/unread, close chats, or delete chats.
Mark all chats as read.
Close all read chats.
Edit notifications settings: enable sound alerts; enable Desktop notifications; and enable message text preview in the desktop notifications. 
Switch between Open and Closed chats tabs.
Please note: Closing a chat does not delete the message history. If you receive a new text message to the closed chat, it will be reopened automatically and appear in your Open chats tab again.
---
SMS Chat right column features:
The right column displays the conversation history of the selected chat.
See the conversation history of the active chat.
Send/schedule new messages to the active chat.
Additional actions that are available to you:
Select messages: copy messages, download messages, or delete messages.
Filter messages by date.
Download conversation history in an Excel file.
Edit sender settings of a specific chat.
Block number to stop unwanted messages. 
Unsubscribe number to stop further communication from your company.
Delete a chat and all the messages in that chat.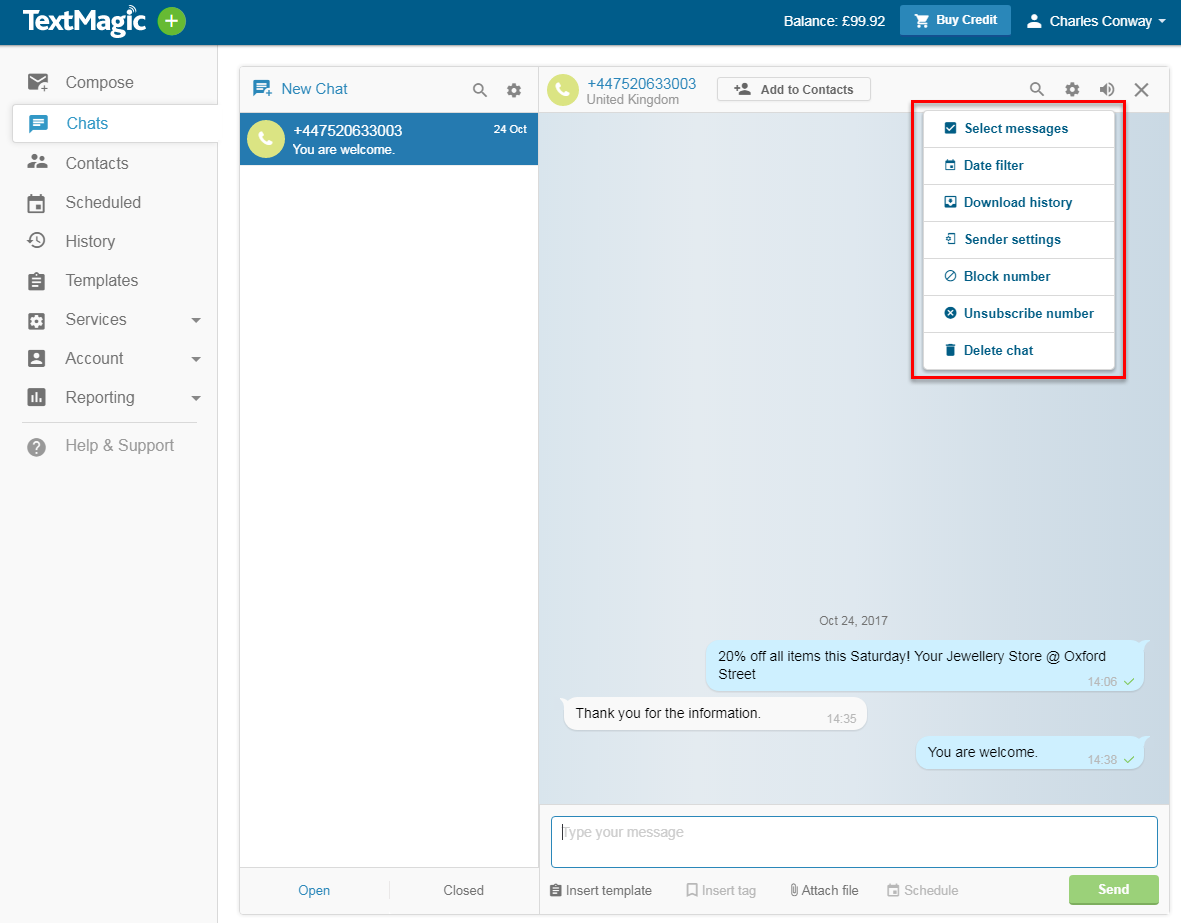 ---

Was this post helpful?
Let us know if you liked the post. That's the only way we can improve.