SMS Chat is a quick and easy of sending and replying to texts, so you can have two-way text chat.
This works with:
Shared reply numbers
Dedicated numbers
Before using SMS chat, you need to configure your sender settings. Learn more about Sender settings.
To send a message using SMS Chat:
Go to SMS Chat.

Click New chat.
Type in your message. (Learn how to personalise messages by using templates and tags). You will automatically see how many parts your message consists of. (Learn more about SMS length.)
Your message has been sent. You can now see:
Please note, when you are looking at data for sent SMS there are several different delivery statuses:
Delivered – the message has been sent and the recipient's network has confirmed delivery.
Accepted – the message has been sent but delivery has not been confirmed, for example because the recipient's phone is switched off. Delivery notification may take up to 12 hours.
Failed – the message has been sent but the recipient's network is unable to deliver it. For example, because the recipient has cancelled their mobile contract.
Rejected – the SMS has been refused, either by the recipient's network or TextMagic. For example, because the recipient has unsubscribed from your marketing messages.
When a person either replies or sends an SMS to your dedicated number, you will see a red notification next to SMS Chat and the message highlighted in bold.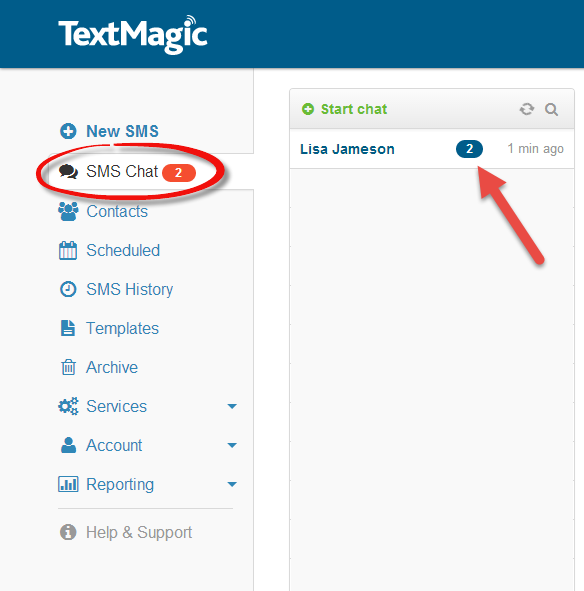 SMS Chat also lets you:
Filter messages by date.
Search in chat for specific information.
Download chat history.
Configure your chat settings.