Make and receive voice calls
Starting in February 2019, you can make and receive voice calls in 23 countries using Textmagic SMS Chat. In order to make or receive calls using SMS chat, you need a voice-enabled Textmagic number on your account. You can buy a new number if you do not have one.
---
To make a call online:
Make sure you have a voice-enabled Textmagic number on your account.
Go to the SMS Chat page.
Open a relevant chat or start a new one.
Click the New phone call icon to start a new call. 
---
To receive calls online:
Go to the Numbers page.
Find the needed number and click the Actions icon.
Select Forwarding settings from the dropdown menu.
Go to the SMS Chat page and wait for a new incoming call.
Please note:
In order to receive calls online using the Web app, the
SMS Chat
page must always be open in one of your browser tabs. The browser will not ring if the SMS chat page is not open. However, if you use the Textmagic
Desktop app
, you will be able to receive incoming calls regardless of which page is currently active.
---
To edit your Caller ID:
Make sure you have a voice-enabled Textmagic number on your account.
Go to the SMS chat page.
Select the Chat settings icon.
Select Calls settings. 
Select the number that you wish your calls to originate from.
---
Price of voice calls:
It costs $0.041 per minute to make a call online to the USA and $0.023 per minute to receive a call from the USA. Please check the price list .
---
To view call history:
All your outbound and inbound calls will be displayed on the History page. You can review the length, cost, time of day and other information about every call made or received. Just click on the correct row and view the call details.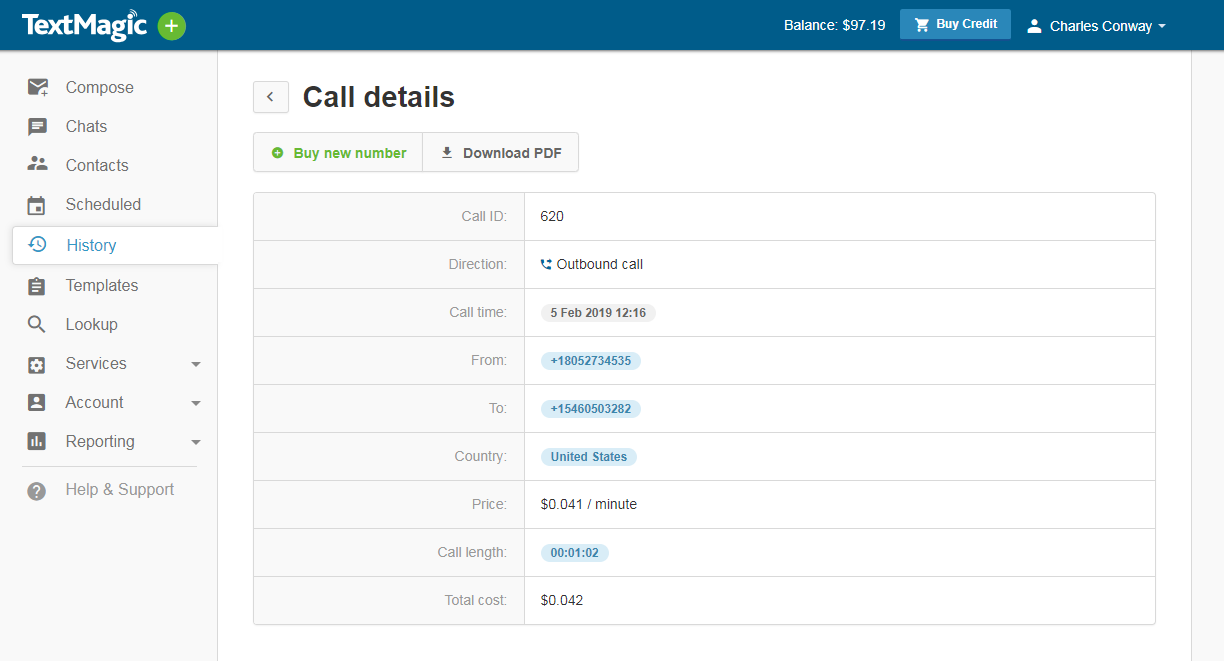 ---
Countries where online voice calls are supported:
Australia
Austria
Belgium
Canada
Czech Republic
Denmark
Finland
France
Guernsey
Hong Kong (China)
Indonesia
Isle of Man

Israel
Jersey
Malaysia
Netherlands
Poland
Puerto Rico
Romania
South Korea
Sweden
United Kingdom
United States
---

Was this post helpful?
Let us know if you liked the post. That's the only way we can improve.